YeahYeahYeah! Actziya! It's on!
All kvirs welcome to the Peter Jordan Straße 76! The actziya will be hosted by TüWi and the Frauen*referat der ÖH BoKu once again!
TüWi is a non-commercial café and sort of collective space, that hosts diverse events, usually oriented towards anti-hierarchical politics. It is frequented also by a lot of students, as it is located right next to the BoKu Wien, which is the University of Natural Resources and Life Sciences here in Vienna. The "Frauen*referat der ÖH BoKu" is a feminist/women*s section of the students council at this University.
The info point and central place of the festival will be at the TüWi and in the TüWi Barracke right next to it, which is located on the corner of Peter-Jordan Straße 76 and Dänenstraße. The seminar and lecture rooms are located just across Pater-Jordan Straße in the "Oskar Simony Haus" (One of the "BoKu" University buildings in Peter-Jordan Straße 65).
Here a nice visualization how to find the festival venue in Vienna (if you want to have more context, see the embedded city map below):
The route to the festival location in Vienna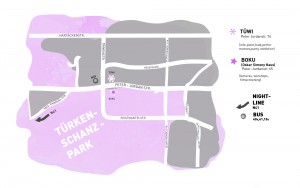 Here is an open street map showing the TüWi (in the map it is actually called "Türkenwird"), with the TüWi Baracke right next to it and the BoKu ("Universität für Bodenkultur") just across the Peter-Jordan-Straße:
You can catch the bus 10A to the festival (stop: Dänenstrasse) from
U3 Hütteldorferstrasse/Johnstrasse
U4 Schönbrunn
U4 Meidlinger Hauptstrasse
U4 Niederhofstrasse
You can catch the bus 40A to the festival (stop: Dänenstrasse) from
U6 Währingerstrasse/Volksoper
U2 Schottentor
If you get to vienna and encounter any serious problems and need help, you can call our emergency phone:
0043(0)688 6464 28 94

The phone will be switched on from now until the end of the month – 24/7 . However, we hope that you all get to vienna safely and won't need it.